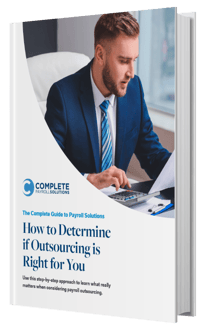 Effective payroll management is central to any business's success, but keeping up with what's required can be challenging. Whether it's ensuring compliance with tax laws or paying your employees on time and accurately, business owners may find that outsourcing payroll is the best use of their resources.
How do you know outsourcing is the right strategy for your business?
With this ebook, you'll learn:
Technology trends and practical advice for modernizing your payroll processes, such as what to look for in a payroll portal and paperless pay
Ways to best address common payroll challenges, such as proper accounting for sick leave and managing multi-state tax compliance
Recognizing when outsourcing payroll does—and doesn't—make the most sense
Costs of using outsourced payroll services
Comparisons of vendors' payroll services capabilities
Discover strategies and practical tips to ensure you run your payroll with confidence and accuracy. Download your copy today!
We value your privacy. We never sell your information or use it for anything other than contacting you as requested.